Film
Film
Edinburgh Filmhouse
'After the Wedding'
Director:
Starring:
Billy Crudup, Michelle Williams, Julianne Moore
I often love going to see a movie which hasn't been advertised on the side of buses and billboards; lacking in the same amount of fuss and PR as some of the 'big releases'…. These can often be some of the best stories told… (& shared)
It's a freezing cold Saturday (early) afternoon but thankfully the Filmhouse is warm, cosy and as always inviting…
Sometimes you just know when a film is going to tick all boxes within the first 5-10 mins…. & this one did just that. A great cast also helps.
We meet Isabel (Michelle Williams) meditating with a group of small children in an orphanage in India; she seems to be particularly close to one little boy… Isabel helps run the orphanage with little financial support. They receive a possible offer from an American business-woman for a large donation, however, the wealthy benefactor wants to meet Isabel in-person before the deal is signed..
Isabel eventually and reluctantly agrees to fly to New York; frustrated having to leave the young children and return to her native America.
We are now introduced to the successful, wealthy businesswoman – Theresa, played by Julianne Moore… she runs a media company in New York; buzzy, smart dressed, on top of her game.. She is married to Oscar (Billy Crudup) an artist/sculptor, they have young twin boys and a daughter, Grace.
Theresa appears to have it all, the successful and glamourous business and the perfect family life and beautiful home…. ( filmed on an Estate on Oyster Bay, Long Island, 'gorgeous' scenes)  Her life and Isabel's seem worlds apart.
The meeting takes place at Theresa's office, she quickly looks over a file of information re: the orphanage…. Theresa seems distracted and shares with Isabel it's her daughter's wedding the next day so she's caught her at a particularly busy time; Theresa suggests Isabelle come along to the wedding tomorrow which will also give her more time to make her final decision to invest in the orphanage….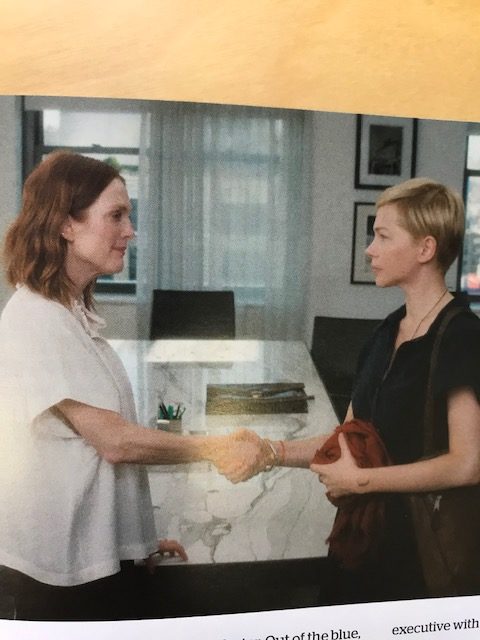 Poor Isabel; you can tell how uncomfortable all this 'wealth' surrounding her is… she just wants Theresa to agree to the donation so she can quickly return to India (mind you, it would have been a very quick movie if that was the case 😉
The day of the wedding; all the guests are seated in the grounds of Theresa and Oscar's sumptuous home… music is playing; it's a beautiful affair but not stuffy. (quite a cool, relaxed wedding) A car arrives; its Isabel running late!! She quickly takes a seat near the back row and peruses the family scene; she sees Theresa, the happy couple, the twin boys then her eyes fall on a very familiar face Theresa's husband, Oscar!! Clearly by her reaction she knows him……
She rushes into the family home and there in front of her are examples of Oscar's work, his sculptures – a glossy catalogue showing photos of his work 'Oscar Carlson'; it is him reads her face… what painful memory from Isabel's past comes flooding to her present.
What happened between Isabel and Oscar and does Theresa know?
What is going on; why is Isabel really here?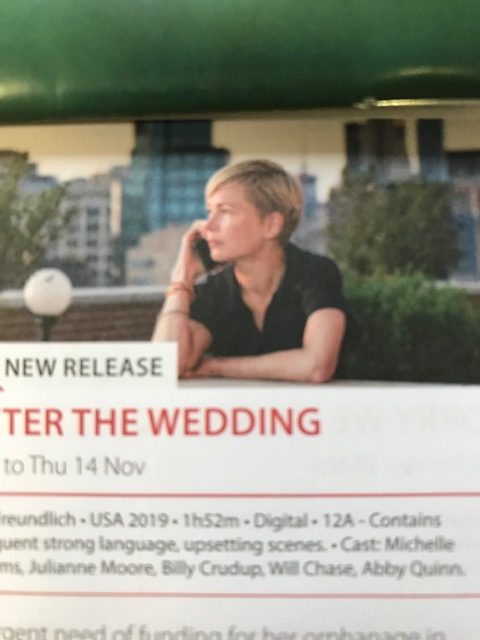 So many twists, turns, secrets all explode 'After the Wedding'….. I won't give anymore of the plot away as that would spoil it for you….
What I can share, however, was unknown to me prior to going to watch this movie, it is in fact a remake of original film After the Wedding (2006) by Danish director Susanne Bier – the leads in the original are male actors so this new version has been given a 'gender swap'… (tempted to get this version on DVD)
Also, the Director, Bart Freundlich is actually Julianne Moore's husband… just a little extra bit of info.
Hope you enjoy.
Shelley x