It's time to talk movies……
It's time to talk movies……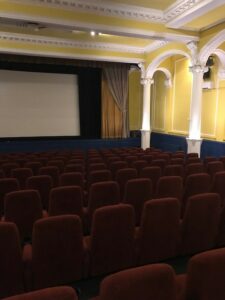 Two great films to share, both completely different!
First it's the long awaited 'Ticket to Paradise' with the fabulous Julia Roberts and George Clooney.
To be honest, it was so lovely to sit back, relax and watch two extremely professional and likeable actors do what they do best. 'Entertain you'…. you really are in safe hands.
What's it about?
Julia and George are a divorced couple who don't really see 'eye to eye'; their only daughter Lily has just graduated and is about to become a lawyer; to celebrate and have some fun before real life kicks in, Lily and her chum head off to Bali for a little vacation.
Fast forward a few weeks and Lily has announced she is getting married to one of the locals, a young chap called Gede – a seaweed farmer who she has just met. (Yikes)
Well, you can imagine, 'Mom & Dad' aka – Julia & George are not amused! They think Lily is making the biggest mistake of her life so decide to head out to Bali and work together in trying to scupper all wedding plans!! Ha!
Lots of laughs, beautiful scenery and of course the wonderful chemistry between Roberts and Clooney….. (especially a scene where the two get very drunk and start dancing)
What's not to love?
My second Film is the much anticipated 'Don't Worry Darling' which has received so much press attention due to the leading actors and the director!
Florence Pugh, Harry Styles, Chris Pine and Director Olivia Wilde…
I had only seen a very short clip and had read the comparison to an up-dated 'Stepford Wives' so was extremely intrigued. Plus I really enjoyed Wilde's first movie 'Booksmart' – check it out if you haven't already seen it.
'Don't Worry Darling' is pretty much a psychological thriller set in this kind of bizarre 1950's town where the wives cook, clean and look after the home while the guys all head off in their cars to work (some-sort of Project/Factory which we never see) Heading home in time for their perfect steak dinner cooked by their perfect wife…
Florence Pugh and Harry Styles are a young, good looking married couple Alice and Jack; they seem genuinely happy….
After a few weird happenings with one of the other 'wives' which all gets brushed under the carpet and hushed up by the Boss & Founder of the town, Frank played by Chris Pine, Alice becomes suspicious and starts asking questions you shouldn't really ask in this town!!
Things start to become strange and uncomfortable for Alice the more she questions what is really going on; Alice also has flashbacks to another life, a song stays in her head but she doesn't know from where?
The town's 'Doctor' one of the other 'founders' prescribes medication for Alice & suggests she must be over-tired!?! Hmmmmmmm, 'weird'! This is all starting to feel really uncomfortable and strange. (not just for Alice but for us the audience – thanks to some fab visuals)
To really enjoy the full 'Don't Worry Darling' experience I can't and won't divulge any more info, you will just have to go get your ticket and get comfy in a cinema of your choice – it's showing everywhere.
I will, however, say, Florence Pugh is pretty fabulous…. (actually, she is pretty and fabulous) Mr Styles does a great job and really suits the 1950's 'style'… well it is his surname after-all 😉
Enjoy….