Film
Film
Where? Cameo
Past Lives – Starring: Greta Lee, Teo Yoo, John Magaro
Director: Celine Song
Often the simplest of 'human stories' makes for the most watchable of movies; this is definitely true for 'Past Lives'.
I love when a film 'gets you' within the first 10 mins and you know you'll be invested in the characters and their story; this particular story follows Nora (Greta Lee) from the age of 12 when she and her best friend (& childhood crush, sweetheart) Hae Sung are growing up in Korea.
Nora's family are just about to emigrate to Canada; it's Nora's last day at school, she & Hae Sung walk home from school in silence; you can tell he just doesn't know what to do or say about his best friend leaving…. They finally reach the end of their walk and stand in silence until they say 'bye'.
We fast forward 12 years and Nora's now living in New York as a writer; she's chatting with her Mum in Korean and they happen to mention the young boy from Nora's childhood who she had a crush on; Nora checks Facebook and ends up re-connecting with Hae Sung (he had been trying to find her but as she had a new name since moving overseas he wasn't successful) – they arrange a video call!
They are so pleased to see each other (all grown up) they start chatting on a regular basis frequently trying to work out if Hae Sung can come to New York or Nora to Seoul? They are both so busy with their lives and work it's not going to happen any time soon….
One day, Nora tells Hae Sung they should take a break from chatting with each other so she can concentrate on her career; especially as neither one can visit the other… it's almost like they have broken up…. Again! (Hae Sung looks devastated)
We fast forward another 12 years; Nora is now married to an American called Arthur who is also a writer and a good guy… Hae Sung has broken up from his girlfriend, AND…….. en-route to New York!!!
After all of these years, Hae Sung and Nora are about to meet each other in person….. What will happen?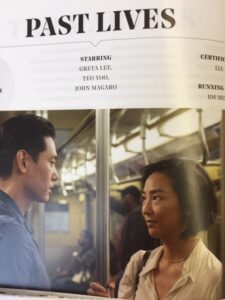 I don't want to share any more of the story; please go to the cinema and enjoy it for yourself…
What I will share, however, is the saying Nora uses firstly when she initially meets Arthur and then later when chatting to Hae Sung – 'in-yun' which is Korean for destiny, fate, specifically the connection between two people…
I think you'll enjoy this one….
Shelley