Film
The White Crow
Written by David Hare and directed by Ralph Fiennes
Starring: Oleg Ivenko as the ballet dancer Rudolf Nureyev, -and Ukrainian dancer Sergei Polunin as his roommate Yuri Soloviev. It is inspired by the book Rudolf Nureyev: The Life by Julie Kavanagh..
Where: The Filmhouse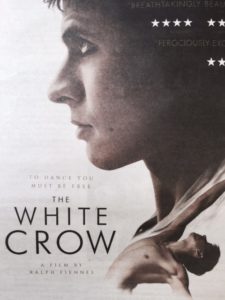 What a treat this movie is… From the stunning quality of dance, to the beautiful music and variation in film technique….
Oleg Ivenko plays the part of the iconic Russian ballet dancer, Rudolph Nureyev. (so well played by this fantastic young Ukrainian dancer) He doesn't just act the part well but because he's such a talented ballet dancer the 'dance scenes' are beautiful to watch and I'm so glad there are many…
Also I must acknowledge another one of my favourite dancers, Sergei Polunin who seems to be popping up a lot in dance-related film. (He is pretty special to watch and has a real modern style)
The term 'White Crow' is a type of Russian slang/phrase to describe someone who is 'unusual', not like the run of the mill… Our lead fits this description perfectly…
We have almost two story's travelling along; some scenes show the young Rudolph growing up in a poor almost peasant style home with his mother and sisters – he was born on a train… These shots are filmed in flasbacks and with no colour….(capturing the bleakness of the time and the harsh weather)
There is a scene in the film which shows his first ever time in a Theatre; there is only one ticket for the whole family to share but it is he who sees the opera & his love-affair with performance begins.
Rudolph is such a determined and dedicated dancer and his self believe was always there, right from the start…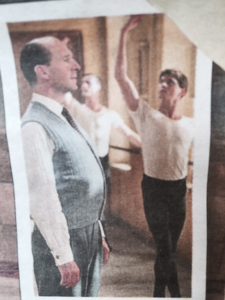 He meets and is taught by Alexander Pushkin played extremely convincingly by Fiennes – he even speaks in Russian! Pushkin is a ballet Master of the Vaganova Academy of Russian Ballet. Pushkin and his wife take the young dancer under their wing and after an injury even invite Rudi to come and stay with them in their very small apartment… (this leads to Pushkin's wife becoming more than a mother figure to the attractive young dancer)
Rudolph becomes one of the lead dancers with the Kirov Ballet and to his delight the company travel to Paris in 1961 to perform… You see Rudi getting up much earlier than his co-dancers to visit all that Paris has to offer – the museums, restaurants, night-clubs – speaking and making friends with the westerners – this is at the height of the Cold War but politics is of no interest to Rudi.(the Russian 'minders' are always watching him and making notes of who he is with and what time he returns to the hotel) He becomes tight with a group of French dancers and strikes up a firm friendship with a very wealthy and well connected young French/Chilean girl called Clara Saint.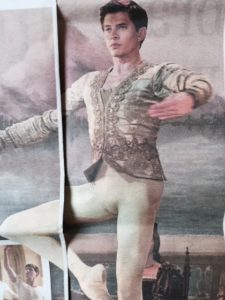 You see Rudi thriving in their company, always learning and moving forward…. The KGB officers / minders become more and more suspicious of Rudi's behaviour and who he is hanging out with..
The climax of the movie is of course when the Ballet company return to Le Bourget Airport Paris, they are all supposed to be going to London to perform but Rudi is told he must return to Russia for a 'special gala performance'! These are tense and hugely convincing scenes when our lead realises they want to take him back to Russia and he won't be allowed to dance again….. We all of course know Rudolph Nureyev seeked political asylum in France but watching this portrayal of how it happened was truly nail-biting…
Fantastic piece of Film & Dance – loved it! I really hope someone decides to take the rest of Rudolph Nureyev's story and make almost a 'Part Two' of his life – there was definitely lots more to share.
Shelley x