January 2019 'Let the films begin………..'
'Mary Queen of Scots'
CAST
• Saoirse Ronan as Mary, Queen of Scots, the Queen of Scotland and Elizabeth's cousin
• Margot Robbie as Queen Elizabeth I, Mary, Queen of Scots' cousin and the Queen of England and Ireland
• Guy Pearce as William Cecil, advisor to Queen Elizabeth
• David Tennant as John Knox, a Protestant cleric
• Jack Lowden as Lord Darnley, Mary, Queen of Scots' second husband
Directed by Josie Rourke
Produced by •Tim Bevan
• Eric Fellner
• Debra Hayward
Screenplay by Beau Willimon
Based on Queen of Scots: The True Life of Mary Stuart
by John Guy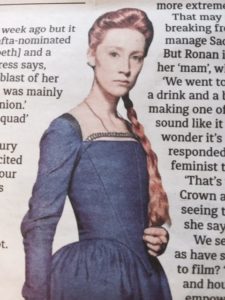 It was always an interesting part of our History; I remember being engrossed with the story at school and even the early film adaptations were intriguing to watch.
We realise with all 'movie versions' there is going to be a certain amount of artistic licence so to speak and this is no exception, however, I must say I absolutely loved it from start to finish. The movie held my attention and the whole audience's from the very first scene. (Filmhouse Screen 1 was packed and silent in anticipation)
It's a fantastic cast with lots of familiar faces but big praise has to go to the movie's leading ladies Saoirse Ronan as Mary, Queen of Scots and 'Neigbours' very own Margot Robbie who plays Queen Elizabeth 1 and Mary's cousin. Guy Pearce another old Neighbours actor stars also…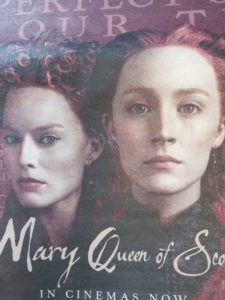 There were only a couple of points throughout the film where each actress had particularly long speeches that you could hear traces of their own Irish and Aussie accents come through… This didn't bother me as we already know they are playing a part.
The film follows young Mary Stuart, Queen of France at 16 and widowed at 18 – she returns to her half-brother the Earl of Moray and to her native Scotland together with her entourage of 'ladies in waiting'…. In England, Elizabeth, Queen of England and Mary's cousin receives news of Mary's return and her claim to the throne.. Elizabeth isn't married and has no children therefore feels threatened by Mary's claim.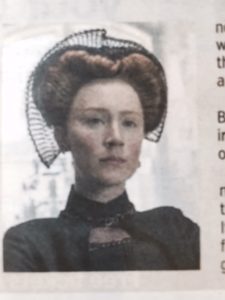 It's bizarre how 'fresh and relevant' this version of the story feels – Mary and Elizabeth are rivals, yes; however each Queen is pretty much being bullied by their own Council which is basically male dominated.
David Tennant plays John Knox a Protestant cleric on Mary's Council, he is filled with rage with the thought of a Catholic (& a female one at that) being in charge of the country – he is so rude and disrespectful to Mary that she has him removed from the Council.
Elizabeth wants to weaken Mary's claim to the throne and have some way of gaining control over her; she thinks the best way to achieve this is to get Mary to marry an Englishman. Elizabeth has a strong personal connection to Robert Dudley and decides to send him to Mary – Dudley isn't happy at this suggestion as he is truly fond of Elizabeth and only wants to be with her… Elizabeth goes ahead with her plan anyway and sends Dudley to Scotland to meet with Mary.
Mary refuses to marry Dudley as he is not Royal merely a normal citizen – unless!!!!! She is named next in line to the English throne?
The next we see poor Elizabeth's face covered in a scarf – she has caught small-pox. Mary hears the news and agrees to marry Dudley (once she is named successor to the throne) as she is convinced Elizabeth will die of the disease!
Elizabeth can't bear to let Dudley go and sends Lord Darnley to Scotland to meet with Mary instead…
As well as being a Lord, Darnley is extremely charming and very good looking and he and Mary grow close….. Darnley proposes.
Due to his title, Lord Darnley actually makes Mary's claim to the throne even stronger – Elizabeth's council advise her to put a stop to the marriage. They fear his motives and worry he wants to take over their country.
Some of Elizabeth's Council travel to Scotland to persuade Lord Darnley to return home to England but Mary refuses….. She is only agreeing to what was asked of her and is marrying an Englishman. Mary's half brother the Earl of Moray is outraged and doesn't want to go to war over his sister's decision… he decides he must leave the Council at once.
This is when all the rebellion, intrigue, conspiracy, betrayal and violence really kicks in; it's almost like a volcano lying dormant before several eruptions start to take place…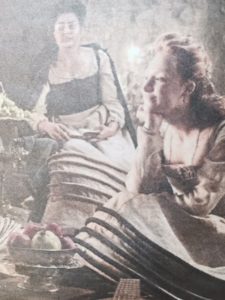 Obviously we all know how Mary's life ends – I loved Saoirse Ronan's quote when she was on Graham Norton's show talking about the end of the movie 'spoiler alert' 😉
I really can't fault this film from the first class performances to our epic and stunning Scottish scenery (including a fab scene where a group of gorgeous Highland cows block the way of the Scottish troops – a wee bit of humour never goes wrong!) to the brilliant costumes and fantastic hair and make-up…
The movie is showing now and I would imagine will run for a further couple of weeks… check Cinema Websites for times.
Shelley x