At the movies
At the movies
'So fantastic to watch two completely different style of Film and in both cases be transported to a different time and place…..& most importantly switch off and be completely entertained.'
Our first encounter….
You can't go wrong with a little 'Disney magic'
The Nutcracker and the Four Realms
Directed by
Lasse Hallström
Joe Johnston (Reshoots)
………………
Starring
Keira Knightley
Mackenzie Foy
Eugenio Derbez
Matthew Macfadyen
Richard E. Grant
Misty Copeland
Helen Mirren
Morgan Freeman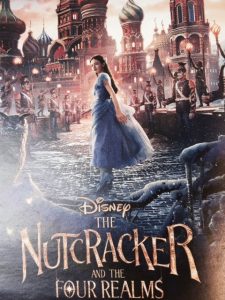 This is visually an absolutely beautiful piece of 'make-believe'; the costumes, the sets the music all assist in lifting you up and carrying you along this enchanting journey…
The story begins in London – sprinkled with twinkly and glistening snow-capped buildings on Christmas Eve. A father, Mr Stahlbaum is with his children in a beautiful cosy house handing out gifts left by his dear wife Maria the children's late mother… (Maria's dying wish was to leave each child a special present)
Clara, the younger of the two sister's (there is also a little brother) receives an intricate, almost Faberge style egg-shaped trinket box which she is unable to open. Her mother left Clara a note 'that the inside of the egg is all she would ever need'…… She must find a way of opening her mother's special gift.
The family get ready and set off in a carriage to the Christmas Eve Ball – there is a little tension between Clara and her father; Clara doesn't think it's appropriate to be dancing at a Ball and having fun as she misses her mother so much. Clara escapes the dancing and rushes off to find her Godfather, inventor/engineer Drosselmeyer played by the wonderful Morgan Freeman. She needs his help in trying to open the egg; he explains to Clara he had given the egg to her mother when she was a little girl and that her mother's wish was that Clara should have it….
Clara returns to the busy Ballroom and has a row with her father….. Drosselmeyer then announces it's 'gift time' and each child should follow the piece of string which has his or her name attached… Clara finds her string and follows it to claim her gift – the string leads out of the ballroom and into a magical, fantasy land (almost like Lucy discovering Narnia when she stepped out of the wardrobe) Clara spots the key!!! The key which will open the egg! Before Clara can get her hands on the egg a cheeky little mouse grabs it and starts running; Clara starts chasing after the mouse but it escapes across a frozen lake.
A Guard is standing just beside the lake, Captain Phillip Hoffman – he very kindly leads Clara across the bridge into The Fourth Realm; however, the cheeky mouse still holds the key!
Captain Hoffman continues to guide Clara to the palace – there is a very amusing exchange with two guards Jack Whitehall being one of them…. A bit of silly British Pantomime humour; well 'tis the Season…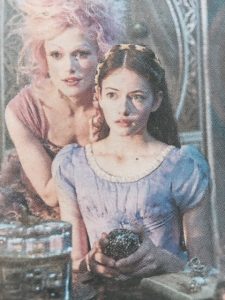 There Clara meets the regents of the other 3 Realms, the Sugar Plum Fairy – Land of the Sweets, wonderfully played by Keira Knightley who has fantastic pink candy floss hair and a 'high pitched' doll like voice. Richard E Grant plays Shiver the regent of Land of Snowflakes and Hawthorne the flamboyant regent of Land of Flowers. They tell Clara they are at War with the fourth realm, Mother Ginger, of the former Land of Amusements….. (Helen Mirren plays Mother Ginger) As Clara's mother had brought all of these characters to life, Sugar Plum asks for Clara's help to defeat the baddie – 'Mother Ginger' so they can remain happy and carefree….
To help tell the story of the Four Realms, Clara is invited to a special 'gala' as guest of honour where she is treated to a beautiful piece of ballet (a complete highlight for me!!) performed by the super talented Misty Copeland ( the first black woman principal at American Ballet Theatre, one of the world's top ballet companies)… So beautiful and adds even more magic if that's possible.
Dilema
So, what will Clara decide – should she return to the Ballroom, to London and her family or should she help her new friends first, friends of her late mother's to help conquer Mother Ginger… All will be revealed when you book your tickets and go watch the movie.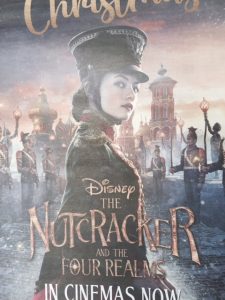 Summary – we all really enjoyed this beautiful film; it completely delivered on the magic, Disney style…. Fun performances, outrageous costumes, stunning sets and of course the music and that special piece of ballet by Misty.
One for all the family of all ages… Just don't forget to sprinkle some fairy dust!
Shelley x
……………………………………………………………
Now for something completely different….
Bohemian Rhapsody
Directed by Bryan Singer, written by Anthony McCarten
Starring: Rami Malek Lucy Boynton, Gwilym Lee, Ben Hardy, Joseph Mazzello, Aidan Gillen, Tom Hollander, Allen Leech and Mike Myers in supporting roles.
(Queen members Brian May and Roger Taylor were creative and musical consultants on the film)
To be honest I did have some reservations about this movie; how could anyone pull off trying to be Freddie!?! He like all true legends are 'one off's; he was such an outrageous performer with a truly gifted voice. But with all that in mind I decided to go check it out for myself and ignore all the critics 'thoughts & views'….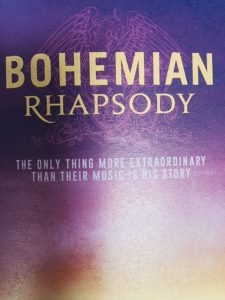 The story follows young Farrokh Bulsara college student and baggage handler at Heathrow. In the evening, Farrokh enjoys heading out to watch a local band he's been following play in a bar; the band is 'Smile'… Farrokh gets chatting to the guitarist Brian May and drummer Roger Taylor after the gig and is delighted to learn the singer has just quit!
The next time we meet the band John Deacon, bassist has now joined and Farrokh who now calls himself Freddie takes centre stage as their new lead singer! A few minor mishaps with the mic stand and a couple of hecklers in the crowd are soon quietened when Freddie comes alive on stage and 'wow's the local audience….
The band is re-named 'Queen' as they start to gain momentum. The story running along-side the music is Freddie's relationship with Mary Austin – a beautiful girl he met at one of the gigs who worked in Biba… they become inseparable.
After selling their van to get as much money together to produce their first album, they are picked up by EMI Records…. At a birthday tea for Freddie at his home with his family, the guys in the band and Mary, Freddie announces he has officially changed his name to Freddie Mercury…
Freddie proposes to Mary and 'Queen' head off to America on Tour…. Whilst on the phone to Mary back home, you start to see the beginning of Freddie becoming un-sure of his feelings; he's questioning his own sexuality..
Back home, Queen are in the midst of a meeting with EMI Exec Ray Foster (played very cleverly by the hilarious Mike Myers; remember that scene in Wayne's World, the guys all head banging to Bohemian Rhapsody in the car. Apparently Freddie was sent a tape of this before the release of Wayne's World and loved it)
They discuss their fourth album; Freddie wants to do something different in-fact the whole band don't want to stick to the same formula time and time again… They head off to what can only be described as a huge farm house – their new recording studio to create the album 'A Night at the Opera' – these scenes are filmed in such an entertaining way as the birth of the song 'Bohemian Rhapsody is put on tape.
Ray Foster refuses point blank to use BR as the first single off the album due to it being 6 minutes long! They won't play it on the radio he stresses! The band all agree that's the song so end up walking out of EMI's offices….. Over a glass of bubbles, we see Freddie and Radio DJ Kenny Everett at the radio station – he announces to his listeners the new single by Queen 'Bohemian Rhapsody'…
As everyone knows Bohemian Rhapsody becomes a massive hit even though the reviews were mixed…
Freddie and Mary break up as they just can't pretend any longer….. Freddie still wants Mary in his life.
As with a lot of bands, tensions come to the surface and Freddie is offered a deal to go solo…. Freddie movies to Munich to work on his solo album; he's surrounded by new people who don't truly care about him, but are just there to enjoy the partying. He's now in a relationship with Paul his personal manager who seems to be only thinking of himself and not of Freddie's best interests, health or career – Paul receives calls from Mary but never passes on her messages, he also receives a call to let Freddie know about a charity concert called Live Aid which Bob Geldof is organising. All the big names in music have signed up to perform and Queen have been offered a spot – again Paul doesn't let Freddie know…
One night Mary arrives to visit Freddie and to ask why he hasn't returned her calls and to confirm he'll be part of Live Aid – When Freddie realises Paul has been keeping all of this from him he becomes so angry and upset and tells Paul to leave right away; he never wants to see him again…
Freddie returns to the UK and has a meeting with his ex-band members and their manager Jim Beach (who Freddie liked to call Miami) – he asks for their forgiveness and they agree to perform at Live Aid – luckily they are given a last minute slot… and the rest as they say is 'history'…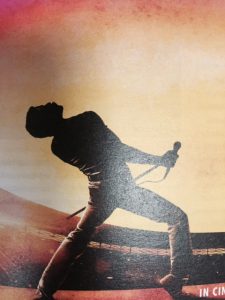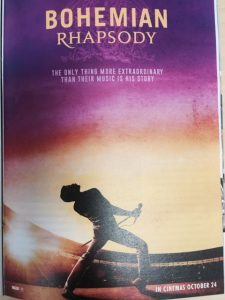 Summary – firstly, I thought Rami Malek did an incredible job playing Freddie; he captured Freddie's unique 'performance style' and really became him… However, the real star of the show is Queen's music; wow, it was so exciting to hear it so loud coming through the massive speakers at the cinema…. Trying to sit still while such fantastic music is being played proved too difficult 😉
Shelley x