Theatre
Theatre Time…
A Play ' Still Alice'
King's Theatre, Edinburgh
Starring: Sharon Small, Eva Pope.
Best-selling novel by Lisa Genova
Adapted by Christine Mary Dunford
Directed by David Grindley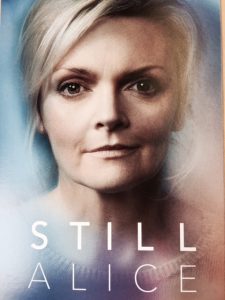 It feels a little indulgent going to the theatre in the afternoon; however, once you're inside and no natural light can be seen time doesn't really mean anything…
I settle into my seat, 4th Row in and bang in the middle.. The King's Theatre is busy, a real mixed audience – couples, groups of woman and quite a few people like me flying solo.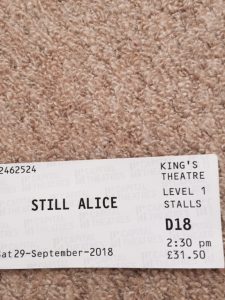 The Play is 'Still Alice' starring the Scottish actress Sharon Small – I had seen the movie version back in 2015 with the wonderful Julianne Moore playing Alice… How would this live version pan out/compare?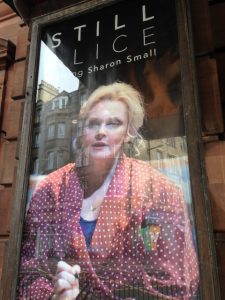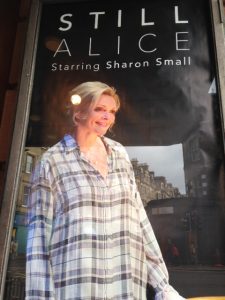 The Story
Alice Howland is a wife, mother and a very bright linguistics professor – she has busy life and it does appear to be a truly happy and fulfilled one.
Alice begins to notice she is forgetting words and also becomes distressed when she gets lost on one of her routine runs….. She decides to get herself checked out at the Dr's.
As Alice has just turned 50 she thinks some of her symptoms are caused by the menopause…… After tests etc. Alice is diagnosed with early-onset Alzheimer's.
The real difference with this stage production is having a 2nd actress play Alice's inner voice – she's there all the time almost having a conversation with herself. You really get a sense of how frustrating it must be to try and remember things, even the most well used word. It's like Alice is caught up in her own head with her own thoughts that she just can't convey like she used to…
The story shares Alice's day to day life – she keeps a list of questions on her mobile which she asks herself every day. Her once very driven, high powered life is now changing and equally her relationships with her husband, daughter and son are also changing…
Frustration, anger and fear are all dealt with through some excellent acting and even the physical change you get to witness Alice go through right in front of your eyes is very believable…
A clever touch are the passing months being shown on a large screen at the back of the set giving the audience a real understanding on how quickly the disease is taking hold. Another visual is how the stage starts off full of furniture and as the story moves forward less and less is left on the stage – a real symbol to what Alice is going through..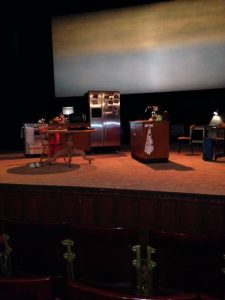 Over-all, I don't think you can ever really compare a movie to a piece of theatre – they are so different in every way. For me, I equally enjoyed the story that both Julianne Moore and Sharon Small told and how they portrayed the character of Alice.
This is a touring production; to get more information on dates etc. please check out their official website www.StillAlicePlay.co.uk