Now that the Festival is over…. Movies are back on the agenda and what a fantastic way to start the new Film Season with this beautifully acted Drama.
The Children Act
Director: Richard Eyre (Adapted by Ian McEwan per his 2014 Novel)
Starring: Emma Thompson, Stanley Tucci, Fionn Whitehead
Where? The Cameo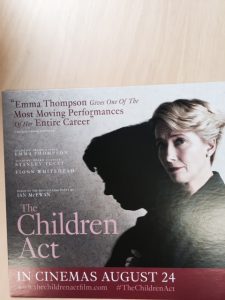 Firstly, it has to be said when you see the names Emma Thompson and Stanley Tucci you know you are in for a real treat in quality acting and this movie really delivers.
Thompson plays a family High Court Judge, Fiona Maye who on a daily basis has to deal with harrowing & extremely difficult ethical cases brought by the 1989 Children Act – this is where courts are authorised to act in the best interests of children.
Fiona is married to Jack played by another one of my favourites, Stanley Tucci – again, as with Thompson you feel completely at ease and confident in the characters both leads are portraying…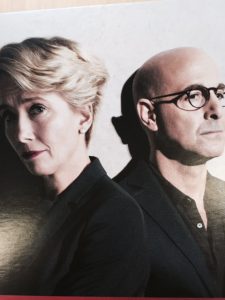 As you would imagine Fiona's job is demanding to say the least – we watch Fiona arrive home from yet another stressful and draining day to throw herself straight into more work… her husband Jack (a lecturer/professor) suggests he makes dinner reservations but a distracted Fiona is far too busy. We learn straight away from the frustrations on Jack's face that this is a not an isolated moment but very much 'the norm' re: their marriage of recent years. As Jack quotes back at Fiona 'you did say a lengthy marriage soon becomes like a brother & sister relationship, well it's happened'. Jack even honestly confides with his wife he is thinking of having an affair???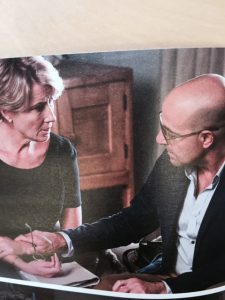 Along with the strain of her personal life falling apart, (Jack packs a few bags & moves out) Fiona's next case requires her full attention and understanding – it's about a boy whose parents are Jehovah Witnesses, Adam (their son) has leukemia and isn't quite 18 as yet. To save his life, Adam must receive a blood transfusion but due to the family's faith they will not allow another person's blood enter their body; a view that Adam also shares. Due to Adam not being of adult age, Fiona can make the final decision in court – how will she rule?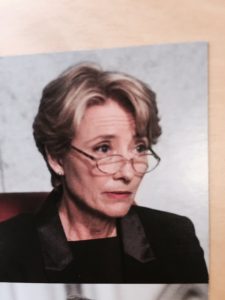 After listening to Adam's father and the medical professional put forward both of their opinions, thoughts… Fiona announces she must visit Adam in hospital and hear what he has to say before making her final decision. (an extremely unusual thing to take place)
This is when we meet Adam (Fionn Whitehead) for the first time; we hear him speak, we see him lying in his hospital bed – very weak and very pale.. He asks Fiona what she gets called in Court, 'My Lady'; Fiona asks Adam to share his thoughts on how he is feeling and does he fully understand what will happen to him if he doesn't have the transfusion – 'are you ready for this' she asks…
To lighten the mood, Fiona notices Adam's guitar on his bed and he plays a little; Fiona recognises the tune and sings along whilst Adam plays.. There is definitely a moment, a connection in Adams's young face. Fiona has to leave and head back to Court to make her ruling; Adam asks her to stay so they can chat some more. She leaves..
I don't want to share any more regarding the story and what happens but if you love being completely immersed in a quality story, beautifully acted then please get yourself a ticket, get comfy and enjoy…
Quick mention also to Jason Watkins who plays Fiona's devoted Clerk, Nigel – he definitely adds a little 'light' and a few giggles along the way…
If this is the quality of film being released to see us into Autumn / Winter 2018, then I definitely won't be disappointed and neither will you….
Shelley x