Film
Film
Where? The Cameo
McQueen – Director Ian Bonhote
Documentary about the Fashion Designer Lee Alexander McQueen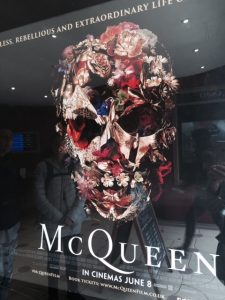 I don't know where to start with this documentary; as soon as the film came on the chatty audience sitting around me at the Cameo, Screen 3 became so quiet and fixated…. it remained this way through the entire screening. (111 mins)
To me, it was more than your usual documentary – yes there were plenty of interviews from close friends and family and fantastic old footage of McQueen working in the early years; however, over-all it was almost like you were transported into a gallery, getting to 'view' what these lucky fashion journalists & 'A-listers' get to see at a top notch 'Fashion Show'… I had no idea just how artistic and talented Lee Alexander McQueen was. (he was advised to use his middle name Alexander; I guess it sounded better in the fashion world)
McQueen was a very down to earth East-ender, close to his family, especially his mum and older sister…. He was always drawing clothes in class at school; his mum noticed some sort of advertisement for apprentices on Savile Row and suggested he apply.. He learned his trade on Savile Row but felt strongly the surroundings would not be for him long term..
He did a stint in Italy working with a designer then returned home to London and managed to secure an MA course at Central St Martins. (his aunt had money in the bank 'not doing anything' so she paid his fees)
McQueen received his master's degree in Fashion Design and his graduation collection in 1992 was bought (the whole collection) by the fashion stylist Isabella Blow – lots of footage of their close friendship; they were from very different worlds but had a genuine care and understanding of each other… Plus the same naughty sense of humour!!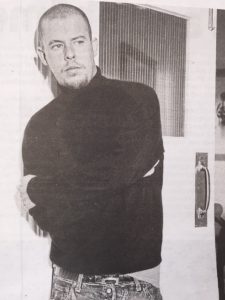 We follow McQueen's rise to becoming more and more successful and well known but still staying true to his roots; his family spoke so warmly about him which was lovely to see – they were very much part of his success and seemed very proud of his achievements… (there's mention of his mum making sandwiches for the models at the shows… I loved the balance of 'normal' in this crazy world of fashion)
The Givenchy footage was fascinating (he was Chief Designer from 1996 to 2001); lots of funny scenes as the two worlds of fashion collide – McQueen and his team from London who couldn't speak any French entering the world of 'haute couture' & Atelier's..(the Atelier's couldn't speak any English)
McQueen showed great respect to the atelier's working at Givenchy – asking to meet them and joining them at lunch time (which apparently was un-heard of – the designer is treated like a King in this world.) He was flying back and forth from Paris to London designing for both Givenchy & his own label – 14 collections at one stage….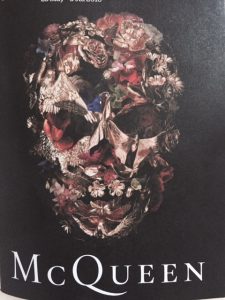 Throughout the film, along with the fun times and the excitement of watching someone's career take off in such a successful way; I really enjoyed how you got to know McQueen and gain insight to how he was inspired to create the fashion he created – each collection/show had a strong story behind it, backed up historically/ practically… Like mini 'theatre' productions.
Unfortunately, the pressures and demands on such a workaholic together with dark-times from his past seemed to take hold of him more latterly… losing his friend Isabella Blow and his mother becoming ill and passing all became too much for this creative soul.
All in all, this is a fascinating and extremely interesting film, so well put-together; in my opinion you don't have to love the world of fashion to appreciate it.
So sad when someone is gone far too soon…
Shelley x