Film Review
Movies
Beast
Director: Michael Pearce
Starring: Jessie Buckley, Johnny Flynn, Geraldine James
I hadn't seen any clips or trailers for this British movie but the snippets I had read in the press were really intriguing.
My friend and I met at the Cameo on Friday, the movie had just been released that day. (it's always much more enjoyable not having seen 20 mins or so of a movie trailer before you go see it)
It's set on the isle of Jersey; a warm sunny day – our lead character is Moll (Jessie Buckley) she and her family are having a barbeque to celebrate her birthday… everyone is gathered in the garden of the family home. Moll's sister gives a little speech to wish Moll a happy birthday; however, it turns out the speech is an excuse to share her own news that she & her partner are expecting twins.. All of the attention is now completely focused on Moll's sister as her Mum asks Moll to go 'fetch the champagne'… Understandably Moll is out-raged & drops a glass in the kitchen which she crushes in her bare hand (through anger) you are made completely aware at this moment there is something more than just sibling rivalry going on; what is Moll's dark secret?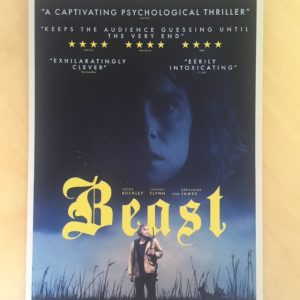 Moll leaves her own birthday celebrations and heads into town searching for fun – dancing, drinking, trying to forget..
The night scenes soon flow into early morning, Moll walking along a deserted beach – a young guy from the night before is there with her, pestering her… Out of the blue something hits the guy on his face; they both look in the direction of where the flying object came from – standing in front of them is a weather scorched, young blonde man with messy hair, carrying a rifle! Moll's pest soon makes a sharp exit.
The man looks at Moll's cut hand and offers to help fix the wound… it's a pretty powerful exchange between two strangers.. The mysterious man ends up giving Moll a lift home in his battered old Range Rover (complete with dead rabbits in the back; this chap is a 'man of the land' a poacher)
Our mysterious and extremely intriguing stranger is Pascal Renouf – perfectly played by the engaging Johnny Flynn who tells Moll when asked what he does ; 'I work with my hands'…. The camera loves zooming in showing close-up shots of Pascal's dirty finger-nails and his intense eyes looking at Moll..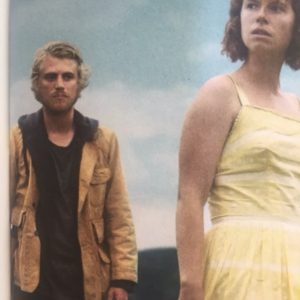 Moll's life/world is pretty stifled by her family especially her domineering mother – (Geraldine James) who never seems to let Moll forget her past mistake (the dark secret)…. Her mother also conducts the local church choir which Moll sings in..
Moll works as a Tour guide for local coach trips on Jersey but is also the main carer for her father who has Alzheimers. Some much needed 'light & life' enters Molls' life after her initial meeting with Pascal and the two soon become an item. (much to the disapproval of Moll's mother)
Whilst this is all going on we are also shown per TV news footage that horrific murders are taking place on the isle – the murders are of young woman.
After further arguments with her family Moll finally has the courage to leave the family home and move in with Pascal…. It is clear they both adore each other and seem to understand one another more than anyone has ever done before.
The police investigation of the horrendous local murders becomes more focussed and Pascal who has had previous run-in's with the police is named as a suspect!!
How will Moll react to the news? Is Pascal innocent?
This is truly one of the freshest British movies I've seen in a very long time – as the poster's heading quotes 'A Captivating Psychological Thriller'…
Fantastic lead actors – Jessie Buckley and Johnny Flynn are so watchable!
Absolutely 5 Stars!