Documentary….
Documentary…
Where: The Cameo
Westwood: Punk, Icon, Activist
Directed by Lorna Tucker
Well, most of us are fully aware of Vivienne Westwood's 'out there' designs which really came into their own via the punk movement back in the 70's – lots of tartan, ripped t-shirts, safety pins and total flamboyancy.
You don't have to love 'fashion' or the lady herself to enjoy this entertaining feature length documentary celebrating the Brit designer….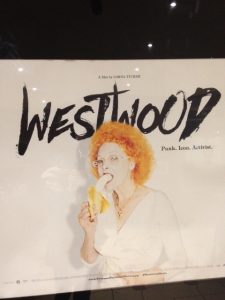 It's a fast paced mix of interviews from friends, family and colleagues to fascinating behind the scenes footage of Westwood choosing (or not choosing) pieces of her most recent collections to be shown on the catwalk – she often looks un-impressed with the whole process not overly keen to share stories from her past – The Sex Pistols? 'it's so boring', can't be bothered'… (she did make me laugh it has to be said)
You can't help but be intrigued by her and at the same time really respect her bluntness and her genuine eccentricity!
There's a certain level of chaos which seems to surround her and her concern for the Westwood business which has grown so large to the point of her questioning 'who is in charge' of making certain decisions?
For me some of the most entertaining scenes were the ones her third husband and collaborator Andreas Kronthaler was featured. I'm not 100% convinced if he is genuinely so very serious or was he having a good laugh at the viewer's expense (& the documentary maker)
There's a scene when Andreas is talking to one of Vivienne's assistants and basically telling him off for not going down one flight of stairs to collect socks!! The assistant looks straight into the camera & pulls a face – like a scene from Ab Fab 'Dahling'…
When talking about her husband Westwood says "I like living with him as much as I like living on my own,". They seem to share the creativity of the business 50/50 and are both very 'hands on'; quite literally hands on! Adding pins, bits of material and new ideas straight onto the models body.
Apparently Vivienne & Andreas were not impressed with the film – she has urged her Twitter followers not to watch it! She seemed to want more footage on her campaigning for climate change and human rights…
I read that the Film's Director, former model Lorna Tucker had quite an 'interesting' relationship with Westwood…. She is quoted as saying '
'I was told off a lot by her (Westwood)' 'She would tell me to go away. I would go away and then she would say, "Why did you go away, you've just missed this amazing thing."
………………………………………………………
I thoroughly enjoyed this little glimpse into the world of one of the UK's most iconic Designers; she really is quite a woman!
Shelley x