January 2018 / The Movies
Movie Review
The Cameo
'All the Money in the World'
Director:
Ridley Scott
Stars:
Michelle Williams, Christopher Plummer, Mark Wahlberg
Like most people I was aware of the wealthy American family The Getty's; the head of the family being J. Paul Getty the famous billionaire oil tycoon. (that's where my knowledge started and ended)
I became interested & intrigued when the first movie trailers were released; especially with all the press coverage re: Kevin Spacey being replaced by Christopher Plummer at the very last minute… (you would never know re-takes had been done on this film…)
This is a fascinating story and I promise you, you will be hooked from start to finish.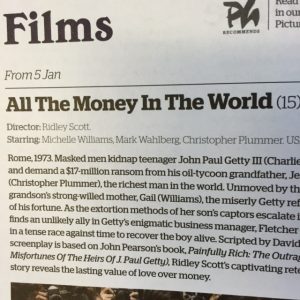 The movie tells the story of J.Paul Getty's teenage grandson being kidnapped in Rome; the kidnappers demand a hefty ransom of 17 million dollars from young Paul's Mum – played by Michelle Williams.(J Paul Getty's daughter-in-law Gail Harris) We follow the story via flashbacks showing us the young family in happier times before they moved to Italy to be close to J Paul Getty Senior…(re-connect with his son and his son's family)
Sadly young Paul's parents divorce and Gail decides to decline any alimony payments in favour of full custody of her children. When the kidnappers contact Gail they have no clue she has no money to pay for her son's safety and release.
Gail decides to contact her ex-father in-law who is now living in a massive country estate in England; J Paul Getty Senior refuses point blank to pay any ransom as he feels this will only encourage more kidnappers to do the same…
Gail feels she must see her ex-father in-law in person to ask for the ransom money so she travels to the country estate in England but is met with the same response… 'No'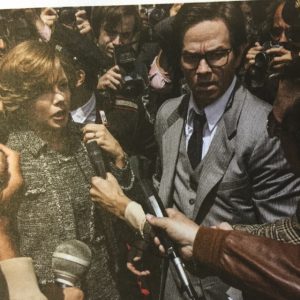 Whilst in England we meet Fletcher Chase (played by Mark Wahlberg) an employee of Getty Senior, Chase is a former CIA guy and manages his security and various oil negotiations. Getty Senior requests Chase to investigate the 'kidnapping' and make sure young Paul is released. (Chase joins Gail in Rome to assist with all negotiations)
In tandem, we follow Paul's terrifying ordeal of being dragged into the back of a car whilst he is wandering the streets of Rome. The group of kidnappers drive Paul to a rural area in Southern Italy where he is held hostage….. At first the kidnappers don't appear to be too harsh, thankfully Paul stays calm and goes along with whatever they ask without causing any extra difficulties for himself.
One of the captors appears to feel sorry for the young hostage and almost looks after him; Cinquanta is also the one who makes the phone calls to Gail.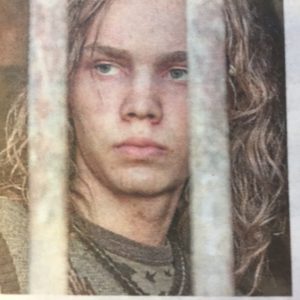 Things become less calm and much more stressful over the next few weeks when no signs of any ransom money has been agreed…
Note
There is a certain scene in the movie when Paul's captors become desperate….. Let's just say I couldn't watch this and had to turn away.
To find out what happens next, get yourself off to the cinema and check this movie out. You won't be disappointed! Helpful hint – it's over 2 hours long so have a little snack before it starts.
Verdict
Over-all I found 'All the money in the world' to be a gripping story, and one that has made me even more intrigued to find out more about the 'Family Getty'.
Shelley x