Movie Review…
Movie Review
'Battle of The Sexes'
The Cameo
Directors:
Jonathan Dayton, Valerie Faris
Writer:
Simon Beaufoy
Stars:
Emma Stone, Steve Carell, Andrea Riseborough
This is such an entertaining movie based on the true story set in the 70's. Emma Stone plays the world's number one tennis player Billie Jean King.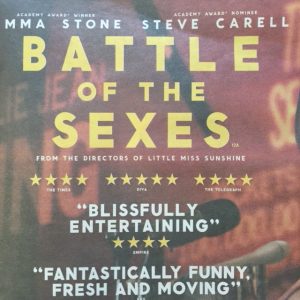 Billie Jean and Gladys Heldman (the founder of World Tennis magazine) are both outraged when they discover a tennis tournament where the top prize for women is about an 8th of the men's prize. They decide to take matters into their own hands and start their own tour!
Initially the women's tour struggles until Gladys wins a fantastic sponsorship.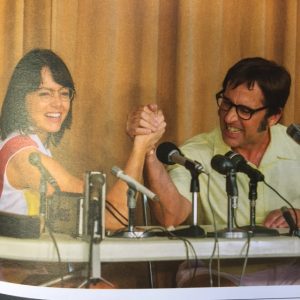 The comedy element arrives with the fantastic Steve Carell who plays Bobby Riggs…
Carell is absolutely hilarious and is perfectly cast as the 'chauvinist', hustler and gambler… Riggs an ex Wimbledon champion always on the look out to make money decides to come out of retirement and challenge the top female players. Riggs is confident that even at the age of 55 the female game is no way a match for him.
Running alongside the historic sporting event, our movie gives you a glimpse into both main characters lives…. Billie Jean's struggle with her own true self whilst maintaining her career (she was married at the time but develops a relationship with hairdresser Marilyn played by Andrea Riseborough) and Riggs love of gambling which causes the breakdown of his marriage to wealthy Priscilla (Elisabeth Shue)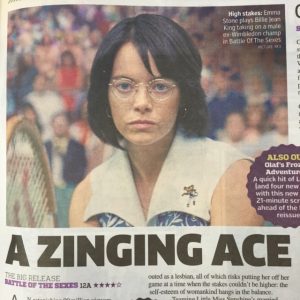 Emma Stone and Steve Carell are both fantastic playing these iconic characters, however, a nod has to be given to the supporting cast – Elisabeth Shue (remember Cocktail), Alan Cumming – V amusing, Bill Pullman….
You don't have to be a tennis fan to enjoy this movie; the whole 70's vibe is captured perfectly thanks to make-up, costume and fab soundtrack.
It's subject matter is also weirdly relevant all these years on; but mostly the movie does what you want it to do, 'entertain you'….
The 'match' itself was quite an event… Apparently is was viewed by an estimated 90 million people world-wide and was held at the Houston Astrodome.
Shelley