Movie time….
Movie time…..
'Murder on the Orient Express'
Director – Kenneth Branagh
Starring; Kenneth Branagh, Penélope Cruz, Willem Dafoe |
Johnny Depp, Michelle Pfeiffer, Judi Dench, Josh Gad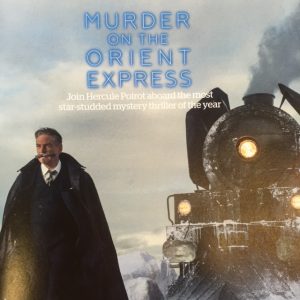 There's something about classic Agatha Christie especially at Winter time that just draws you in… Marry that with an all star cast, stunning scenery and just a touch of silly British humour and the stage is very much set.
I doubt there will be many of you who won't know the over-all 'plot' of this nostalgic 'who done it'; however, if you love a bit of suspense set against an extremely stylish backdrop of one of the most iconic trains then 'hop on board' and enjoy the ride…
Kenneth Branagh's portrayal of the Belgian detective, Hercule Poirot is played with a lot of humour – in fact, his moustache alone may receive an award for 'Best supporting facial hair' 😉 (you just can't help but smile when you see it)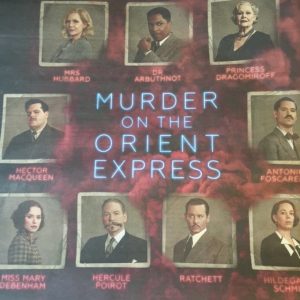 We find Poirot getting himself ready to take a well deserved vacation (just after solving yet another crime) time to himself to read his much loved Charles Dickens and switch off to a world of crime!
As part of Poirot's holiday he boards the fabulous 'Orient Express' & why wouldn't he! Istanbul station is buzzing with excitement as we start to meet the other cast members…
From the very British, Derek Jacobi, Judi Dench and much loved Olivia Colman to some Holywood glamour – Johnny Depp, Michelle Pfeiffer, Penelope Cruz – who still manages to look gorgeous as this dowdy character…
One by one we are introduced to all the characters as they start to enjoy their experience on this rather fancy choo choo, steaming ahead through fantastic snowy scenery… It really is a stunning piece of film and has a certain 'magical' quality which makes you feel relaxed – just sit back and soak it all in.
Now, getting back 'on track' (see what I did there…) we can't have the fabulous detective Poirot stuck on a train with an 'all star cast' without, yes, you guessed it (well the word does feature in the title) there's a Murder!! Dun-Dun-Duuuun!!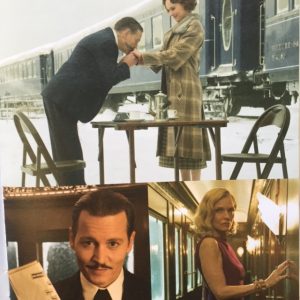 This is when each star has their 'spotlight' moment, under interrogation no less…
Along with Poirot himself and his facial hair companion, Michelle Pfeiffer's character is very watchable – she plays a glam divorcee, possibly on the look-out for husband No 3. (she also sings the closing song of the movie whilst the credits are rolling; multi-talented Ms Pfeiffer I hear you say..)
Poor Poirot, his vacation cut short – such a famous Detective must solve the crime even on his holibags; luckily all his suspects are under one roof, that of the wonderful 'Orient Express'…
I really enjoyed this movie; it offers a little bit of everything – beautiful scenery, fabulous cast and costumes, silly humour, suspense and old-style magic… All the ingredients for the perfect 'winter warmer'.
Sit back, get comfy and enjoy the journey…
Shelley x