Edinburgh Festival/Fringe 2017…..
Edinburgh Festival/Fringe 2017…..
A little 'review'…
August the most exciting month in Edinburgh's calendar – Delighted to say, it definitely gets better & better each year with even more choice and yet still manages to hold onto its unique 'charm'…
I 'luv' to mix things up and try and get a flavour of lots of different acts/shows not just comedy..
Here goes!
To kick things off, my chum and I went to see a fun, up-beat show called 'The Choir of Man' / Assembly Rooms. Great venue!
A group of 9 guys all completely different in style show-case their singing talent against a backdrop of a traditional pub… A host of classic tunes are belted out from Rock, Folk and even a little opera! It sure is a lively 'sing-a-long' show which gets you in the mood to experience more Festival/Fringe Delights.
A show for all the family…..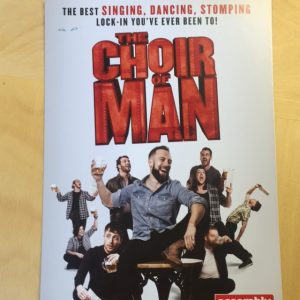 Nicholas Parsons' 'Happy Hour' / The Pleasance
Awww, never miss 'The Parsnip' – it's one of those little Festival Rituals! We even managed to get a new recruit on board with us this year!!
It's a chat show of sorts, showcasing other acts whom Mr Parsons introduces and has a wee bit of banter with… He really is a Legend! Always luv it when he's chatting to audience members in the front row then gives them a tube of Smarties.. He chooses great guests to join him on stage so it's a fab way to get a little taster of other acts currently performing.
Light-hearted entertainment…..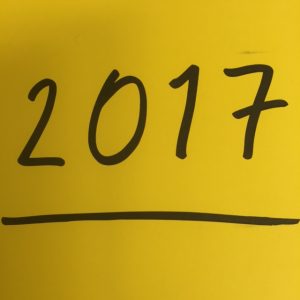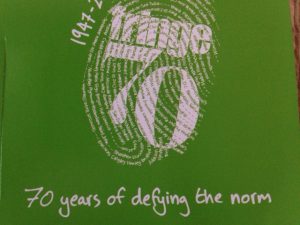 Jess & Joe Forever – Traverse Theatre
Didn't know what to expect from this play; however, I usually find if it's showing at a good venue you won't be disappointed.
Two fantastic young actors telling their story over many 'summer holidays' shared together. It's about their growing friendship over the years even though they each come from completely different backgrounds.. I guess it's a coming of age tale full of funny moments and often quite moving…. No fancy scenery, props or costume changes for these two just quality story-telling… Job well done!
We also had a little extra sparkle (showbiz style) by spotting the very talented movie director, Mr Sam Mendes who ended up sitting beside us!!!!! (I had to say hello after the play; plus check it really was him)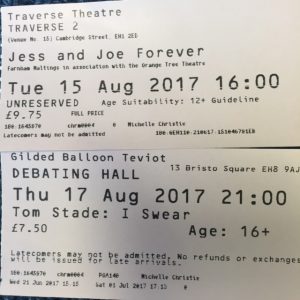 Paris de Nuit – George Square Gardens
Classy, circus style performers – transforms you back to a bygone Parisian age; fantastic live band… Burlesque inspired costumes; smokey eyed gals & guys!
Cheeky in parts and oh so very professional…
One of my favourite shows this year; thumbs up guys.
Merci..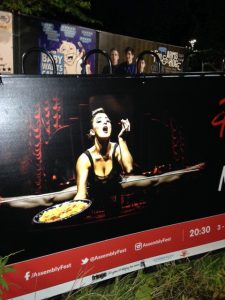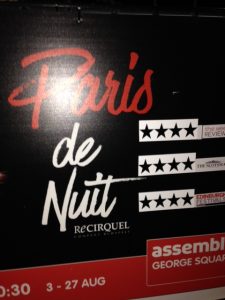 A Girl from Oz.. Circus Hub, The Meadows
Turns out this girl from Oz is actually Australian drag artist – Courtney Act. Extremely glamourous, powerful vocals and sarcastic banter in-between songs.. Big crowd & big act!!!
Made me think of Liza Minnelli singing 'Single Ladies' – Sex and the city 2.. You just can't help smiling.
Tom Stade, Comic / Gilded Balloon, Teviot
Canadian Comic who arrives on stage as if he's about to 'jam' with Bruce Springsteen..
Extremely funny! Sooo laid back… story telling rather than 'did you hear the one about'…
Sure Tom is going to return to this world as a Rock Star! (Note: Don't sit in the front row if you want to escape any one to one chat….)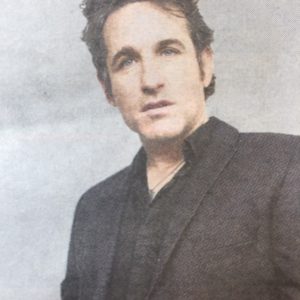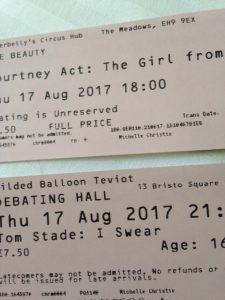 Moonlight After Midnight, Assembly George Square (pop up venue)
A Play..
Again, another two-person play… The writer of the piece is also one of the actors; they both founded a Theatre in Brooklyn – 'Concrete Drops' and have toured across the US, Canada and Australia… This is their first visit to Edinburgh.
Great story told by two extremely professional actors.. Keeps you guessing until the end.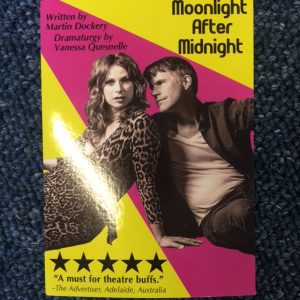 Camille O'Sullivan – Circus Hub, The Meadows
What can I say about Camille if you haven't seen her show before?
The lady is hard to describe…. She's a brilliant performer and manages to merge a theatrical performance with a fab rock-style voice who doesn't just sing the songs but really tells the story and yet she still manages to connect to the audience and makes eye contact with as many people as she can… (plus every so often a little 'Meow' comes out)
Camille totally loses herself in the songs and you find yourself equally sucked in…
I luv the way she enters the venue in her fabulous red cloak, walking towards the stage down the centre aisle, placing her hands on her audience's shoulders as she passes…
Her chat in-between songs is always entertaining and you really get a sense of her warmth and appreciation towards her audience..
Must also mention her wonderful band – quality musicians…
She's always a highlight each August & I hope she keeps returning for many years to come…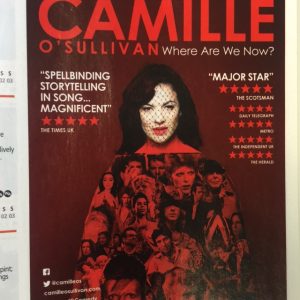 Big thanks Edinburgh Festival/Fringe – here's to another 70 years!
Shelley x