Edinburgh Film Festival 2017
Edinburgh Film Festival 2017
In Person: Stanley Tucci – Actor, Writer, Director
Where? Filmhouse 1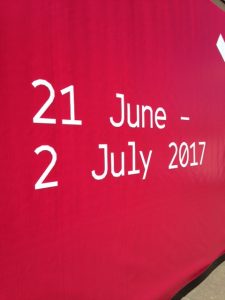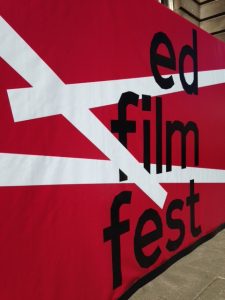 Another exciting 'date' in my calendar year is the Edinburgh Film Festival…. I've been a regular at this Festival for many years and have enjoyed the variety of films being premiered together with being lucky enough to be part of the audience when an Actor or Director (or both) has an 'In person'.
My choice this year was Mr Stanley Tucci – probably most famous for 'The Devil Wears Prada' / 'Spotlight' / 'The Hunger Games Trilogy' and the horrible, creepy serial killer in 'The Lovely Bones' which scored him an Oscar Nomination for Best Supporting Actor. (thank goodness for un-recognizable make-up and amazing acting)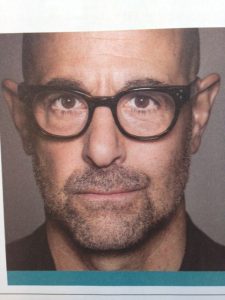 Filmhouse 1 is where the interview takes place so my friend & I arrive in plenty of time to join the very glamourous queue –( on the stairs leading up to cinema 1 ). We get great seats about fourth row from the front in the middle. On the right hand side of the stage a table & two chairs are set…… this is where Mr Tucci will be interviewed.
Lots of chat & people arriving keeps us completely entertained until Mark Adams, Artistic Director of the Film/Fest pops on stage to welcome us all…. Round of applause & then the main man plus 'Interviewer' walk on stage! Huge round of applause, whistles and some cheering now takes over whilst they get seated.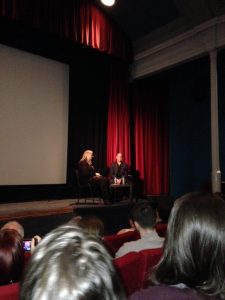 I must say Stanley Tucci was an excellent choice as part of this year's Festival – he came across extremely likeable; very bright, warm, funny and extremely charismatic. As with these things the audience really get involved and questions are encouraged from the audience & in Mr Tucci's case this was not a shy audience!!! Hands were flying up all around us and some great and also entertaining questions were asked which Stanley answered so thoughtfully and with a great deal of humour.
One lady in the front row stuck her hand up to say, 'my friend can no longer watch you in movies since The Lovely Bones' as the character was too disturbing'….. Poor Stanley looked equally puzzled and a little sad but quickly turned it around by saying 'well I doubt I'll be having dinner with your friend'!!!
Talking of dinner, Mr Tucci's other great passion is food and cooking – well both of his parents are of Italian descent. He has even written a cook book and shared a kitchen with Meryl Streep in way of a little research before their movie 'Julie & Julia'…
He talked about how much he loves all of our British Cookery shows; he is now based in London suburb, Barnes with his 2nd wife – Felicity Blunt, sister of Emily Blunt! (the pair met at Emily and John Krasinski's wedding)
Stanley is also here to present his new movie, 'Final Portrait' this time with his Director hat on.
The film stars Geoffrey Rush, Armie Hammer / it's a glimpse into the life of artist Alberto Giacometti an insightful film about life, art and love…
Stanley Tucci's father is a retired art teacher and artist so looks like more of his passions will be translated through his future projects.
Art, Food and Mr Tucci – a very classy interviewee…. Great way to spend a Sunday afternoon; EIFF we thank you.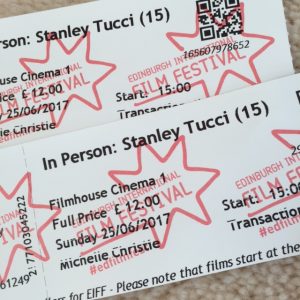 Shelley x