Movie News…
Film – 'My Cousin Rachel'
Where – The Cameo
Starring: Rachel Weisz & Sam Claflin
Director: Roger Michell
……………………………………………………………….
Wonderful, mysterious and beautifully filmed based on the Daphne Du Maurier's novel..
Great casting and shot on the Cornish Coastline this period piece has you hooked from the outset.
The Story – Young Philip played by Sam Claflin ('The Riot Club' / 'Me Before You')orphaned from a young age and brought up by his older and very wealthy cousin Ambrose.. Ambrose becomes ill and is prescribed some much needed sun by his Doctor so travels to Florence, Italy.
Letters arrive to young Philip sharing stories of a beautiful woman called Rachel who Ambrose falls for and eventually marries… Soon after, Philip receives a rather disturbing letter not making much sense informing him to 'come quick' / un-well – poisoning!!!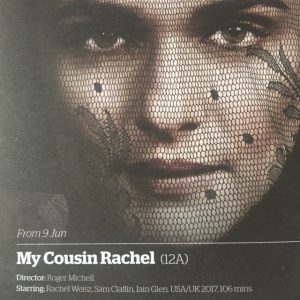 When Philip arrives in Florence he is quickly informed that his guardian cousin Ambrose has died; filled with anger towards his cousin's widow Rachel, Philip returns home with only one thing on his mind….. Revenge!!
Is Rachel planning to take over her dead husband's estate; why else would she be visiting? Philip has already judged her and has already made up his mind he despises her!
Fantastic build up prior to Rachel's first scenes – Rachel is beautiful, feminine and rather modern for her era & Philip's initial anger and hatred very soon disappears and he too is cast under her spell… What is her plan? How long will she stay for? Will we ever find out…..
Highly recommend this movie; beautiful to watch and so well acted, Rachel Weisz plays the part of 'Rachel' perfectly and Sam Claflin is wonderful as the young heir.. Great supporting cast also; Holliday Grainger & Iain Glen.
Showing at The Cameo and The Filmhouse; don't miss it!
Shelley x