Edinburgh College of Art – Degree Show 2017
Edinburgh College of Art – Degree Show 2017
Free Entry – Saturday 3rd to Sunday 11th June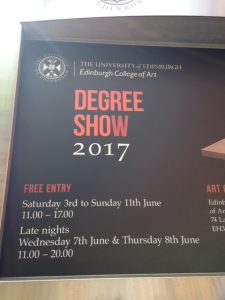 For many years now when June arrives I always look forward to my visit to the Degree Show at Edinburgh College of Art.
It's such a great opportunity to view a huge variety of all things 'art' – everything from Interior Design, Performance Costume, Product Design, Architecture, Jewellery and all areas of art itself including 'contemporary' and Fine Art and photography….
I also love that you get a chance to look inside these fantastic buildings where the lucky students have been fortunate enough to call their place of work/study over the last 3-4 years….
This year the 'show' is spread over 4 buildings – The Main Building and Evolution House for Art and Design – Lauriston Campus, and Minto House and Adam House for ESALA, Chamber Street. And the Fire Museum at Lauriston as the newest exhibiting space….
As much as I enjoy all things 'Art' I must admit there is a certain amount of enjoyment via 'people watching' at these events!! All ages attend from families of the students sometimes looking fairly baffled at their son/daughter's creations to business owners looking for the next 'big thing' – this could be a beautiful piece of jewellery or a creative new illustrator!
I start my 'tour' in the Main Building at Lauriston Place, the Grand Hall plays host to 'Performance Costume' – from the weird to the wonderful mixing full costumes on show together with flat screens showing earlier footage of the Fashion Shows so you're not denied the whole experience….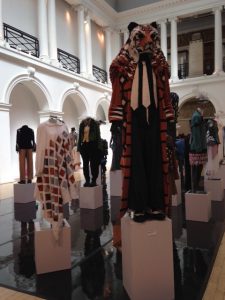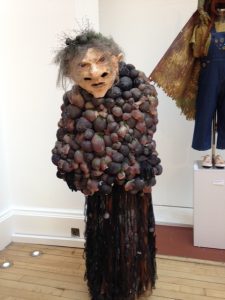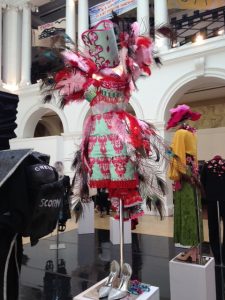 For some calm I visit the Photography, Fine Art, Painting and Contemporary art – the spaces themselves are pretty fantastic so no doubt this plays a huge factor in the student's inspiration.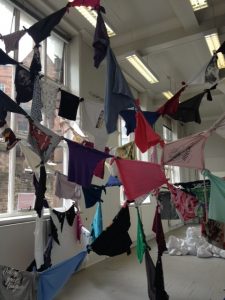 I decide to take a wander down to Evolution House (the new-style building) at West Port. I love how different this building is and what it has on show!
(plus the view of the Old Town out on the upper balcony is pretty impressive in itself)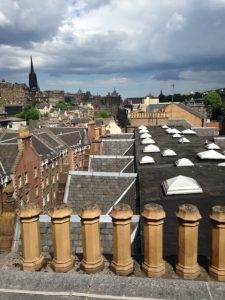 Textiles, Jewellery, Graphic Design, Interior Design, Illustration, Product Design…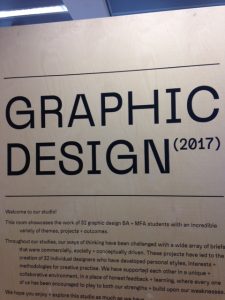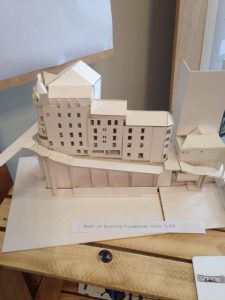 This can often be my favourite part of the show as it features a lot of accessible areas of 'art' such as jewellery and illustration.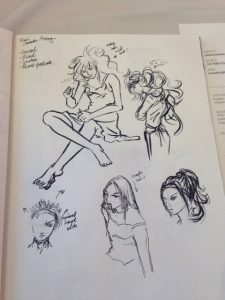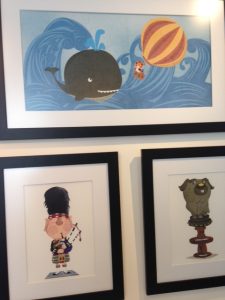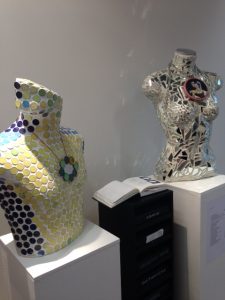 I actually got a beautiful ring made a few years ago from one of the students who made really unusual pieces; I spotted the ring, tried it on then arranged to get one made…. Still luv it!
So, if like me you enjoy a mix of interesting buildings, Art, jewellery and all things design plus getting a small glimpse into a world of study you didn't personally experience but equally enjoy then this Degree Show is definitely worth a couple hours of your time…..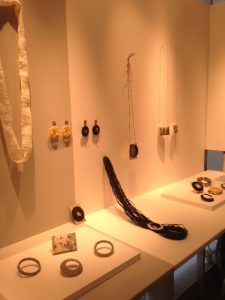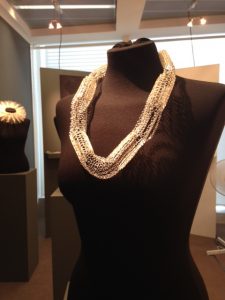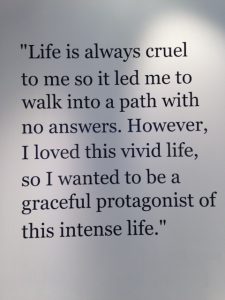 It's open until Sunday, 11th June and there's two late nights – Wednesday 7th & Thursday 8th June 'til 8pm. (Free Entry)
Who knows you might spot the next Tracey Emin!
Shelley x