'Supper time….'
Good Friends, lots of laughs and beautiful authentic Italian food……. 'Tempi felici' (Happy times…)
Where? Osteria del Tempo Perso, Bruntsfield Place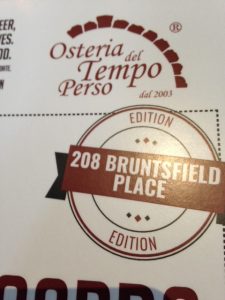 Luv a little 'Saturday night' supper with friends.
We met in Montpeliers in Bruntsfield; perfect location for a wee aperitif before supper.. Buzzy, lively atmosphere!
Osteria (Inn or Tavern in Italian) is a very relaxed Italian Restaurant and Wine Bar which Oozes Italian charm and yummy authentic cuisine….. There's never any rush so when our table wasn't quite ready we sat at the bar and enjoyed a little glass of 'Pink' Fizz courtesy of Osteria – 'Grazie mille'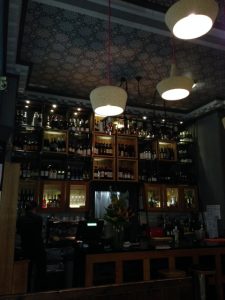 As usual every seat in the house is taken so just a little 'heads up', always pre-book!
A great mix of couples, families and groups of friends all chatting, laughing and enjoying the evening…
Our Italian waiters are kept on their toes and are equally charming and a little cheeky which makes the atmosphere much more fun than stuffy and pretentious.
Now to the food & Wine…..
My friends shared a bottle of Rose; I'm a bit of a Chianti fan especially teamed with hearty Italiano fare.
Starters – Arancini All'Italiana – Mmmm, so delish! Gorgeous little rice balls filled with ragu and mozzarella.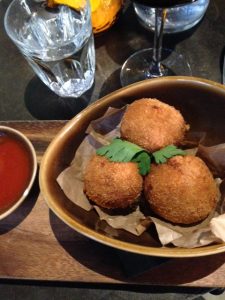 Calamari Fritti – Deep fried squid with basil mayonnaise / lemon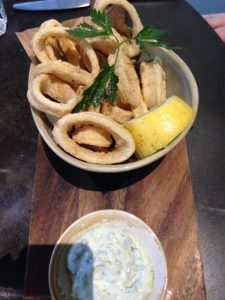 Bruscetta Classica – marinated tomatoes, fresh basil.. (how pretty does this look??)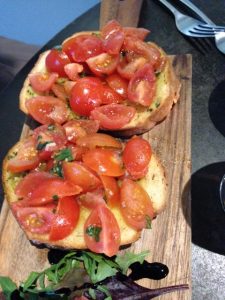 You can imagine, empty plates all round!
A little breather before the main event.
Mains
Two of us had the yummy Polpette in Tomato Sauce – melt in your mouth meatballs with fresh pappardelle pasta served in a tomato and basil sauce / side order of rocket & parmesan salad. (plus my usual mountain of freshly grated parmesan – just can't help myself)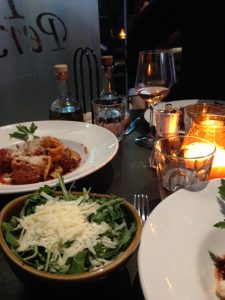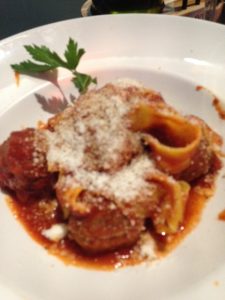 My other chum had Lasagna Di Mamma – 'Justa like Mamma used to make' – a very happy man!
Scottish Beef ragu & handmade fresh pasta.
Desert anyone?
Coppa Cioccolato – Belgian Chocolate ice-cream with whipped cream…. Well, you have to have a little gelati when in Italy.
Beautiful supper in fun and extremely 'homey' surroundings where sharing a love of good food and wine is encouraged and celebrated…….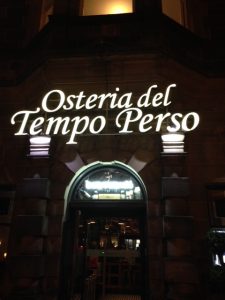 Already looking forward to our next visit…….
Shelley x