'Spring Supper' at Contini, George Street…..
'Spring Supper' at Contini, George Street…..
It was a beautiful day on Saturday, sunny & bright with a hint that Summer may be just around the corner..
I was looking forward to meeting my good chum and her two children for a catch up. We had planned an early supper in town so decided to take a chance & hoped Contini could offer us a table for 4. We were in luck!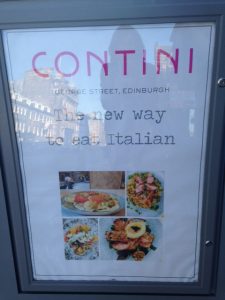 Contini had a little 'face-lift' earlier this year and I must say it's looking fabulous! You really feel like you are on holiday or just away for the weekend – beautiful soft tones, a fantastic 'Botticelli' inspired Mural hangs at the front section of the restaurant and of course yummy smells fill the air…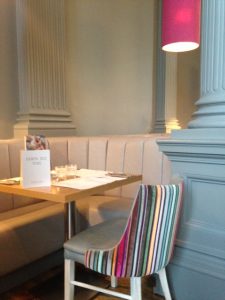 Victor came over and welcomed us; he's the perfect host…. You can tell how passionate both he & Carina are about creating not just somewhere to come and enjoy a drink and some delicious food but an 'experience' set in stunning surroundings with a real family feel… 'Perfecto'
As well as the menu for grown-ups, Contini offers a great children's menu so everyone is catered for….
My chum & I decided to go for a cheeky wee 'Tuscan Beauty', Chianti, Buontalenti Toscana – so 'moreish'; a very light, easy drinking Vino Rosso. 'Chin Chin'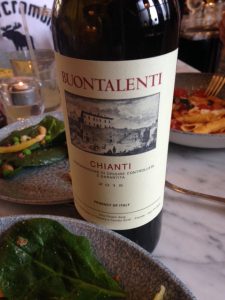 We shared some Ciabatta before our mains… (we were all super hungry so our Ciabatta & oil etc disappeared in a flash)

What we ate…..
Pasta Pomodorino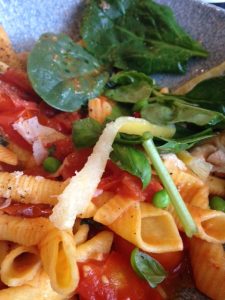 – gorgeous fresh pasta with pan fried tomatoes, fresh basil (a must) and garlic..
Side order of Melograno – spinach leaves, cooked lemon, roasted almonds for some added crunch and fresh pomegranate seeds.
Gelati cause it would be rude not to! (I also asked for chocolate sauce and fresh cream; well if you don't ask)…… 'Happy Face'
What can I say, simple fresh ingredients, cooked perfectly and set in beautiful surroundings in the heart of the city centre… 'Yum's all round!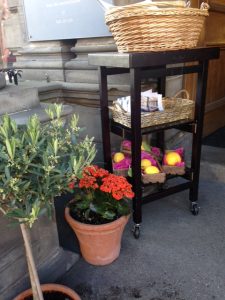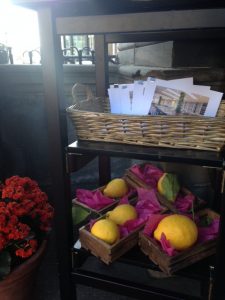 Contini is one of three Award Winning restaurants all based in fantastic Edinburgh locations serving fresh produce/ingredients from Italy and Victor & Carina's own Midlothian Garden….
Don't just take my word for it…… Go check it out!
(open for Breakfast, Lunch & Dinner)
Ciao,
Shelley x