Dancing! Dancing! Dancing!
Dancing! Dancing! Dancing!
Brendan Cole 'All Night Long'…….
Fantastic 'up beat' 'feel good' evening of dance together with a spectacular 14 piece band and two brilliant singers.
Brendan of 'Strictly' fame is a great live performer and seems to enjoy every minute he's up there on stage. He makes for a great host!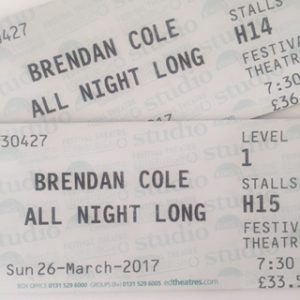 We enjoyed everything from fast moving 'Cha cha cha' dahlings.. To beautifully choreographed Viennese Waltz and traditional Waltz plus a cheeky wee Argentine Tango… & much more.
In between dancing Brendan shared fun 'behind the scenes' stories from his 14 years on Strictly & even decided to have a little wander through the aisles to say 'hello' to some of his many, many female fans.. (all screams, giggles & selfies)
All in all an extremely 'polished', fun, party-atmosphere – I forgot it was Sunday night!
Festival Theatre – fantastic venue.
Shelley x